eCommerce Articles
There are (and were) several print publications focusing on eCommerce and trends in the marketplace.  Most were loaded with pieces on technology that were over the average store owner's head or were stuffed with articles based around the advertisers.  None really did a good job at giving real-world, practical advice to the small business owner who relies upon their couple-hundred-item eCommerce store to feed their family.
When Scott Sanfilippo and Joe Palko founded Solid Cactus in 2001, their goal was to serve small business with product and services that they could afford, would make them money and put them on-par with larger merchants.  Being entrepreneurs since they day they got out of college, they knew what issues impacted small businesses, how challenging it could be at times to make a go of an online venture and made it their goal to help others succeed at eCommerce.
In early 2007, Scott set out to create a publication that was geared towards this unique audience – the eCommerce entrepreneur.  Drawing upon the skill-set of the 100+ employees at Solid Cactus, he had a house full of experts ready to write articles and provide practical advice to the masses.
eBiz Insider was born.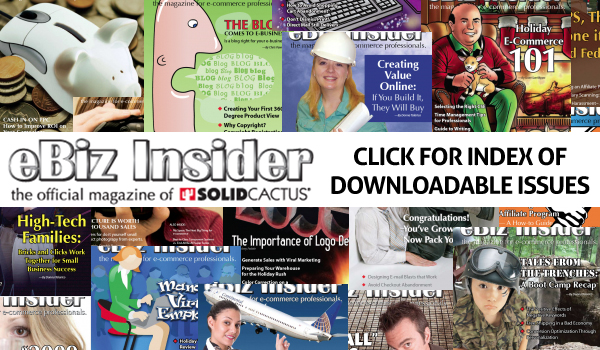 The first issue was published in May 2007 and was distributed to over 15,000 small business owners in the Solid Cactus database.  The monthly publication immediately got rave reviews from readers who looked forward to taking some of the tips and techniques and incorporating it into their own business.
eBiz Insider covered topics ranging from how to setup a product photo shoot, to introducing store owners to the new-at-the-time social media sites, Twitter and Facebook.  Other articles included tips on DIY pay-per-click advertising, how to write effective product copy, even how to terminate a difficult employee.
"There was no other magazine like it," commented Sanfilippo.  "Here we are, a web design and Internet marketing company publishing a full-color, full-scale magazine each month that was equal to the quality of any other Interent magazine out there.  We did what no other company in our space could do, or would do.  It was another way we broke the mold and it made us unique."
Each issue featured a "From the Editor" written by Scott and he also contributed with an in-depth article based on his own eCommerce experience in each issue as well.
Following the aquisition of Solid Cactus by the Web.com Group (NASDAQ: WWWW) in April 2009, eBiz Insider moved to a bi-monthly production schedule until it ceased publication with the March/April 2010 issue.  While no longer printed, eBiz Insider continues as a weekly eNewsletter which is distributed to Solid Cactus clients.
"Was I sad to see it stop being published? Absolutely," lamented Sanfilippo.  "But putting a magazine together takes a lot of time, effort and money.  A lot of publications switched from print to digital because of the cost factors and the ability to reach a much larger audience with a digital product.  We merely followed in their footsteps."
For a listing of Scott's favorite columns and articles published in eBiz Insider magazine, view the Article Index below.