Current Projects
After founding and selling two highly successful multi-million-dollar companies, Scott Sanfilippo is active in several ventures, including:
Empresa Merchant Services, Delray Beach, FL
Empresa Merchant Services is a leading provider of merchant account services for businesses.  Companies looking to accept credit and debit cards or those wishing to find a provider who will offer them a lower processing rate turn to Empresa.  As an ISO/MSP of Wells Fargo N/A Empress Merchant Services eliminates the middle-man and passes cost savings directly to the business owner.  With extremely competitive rates, Empressa is the choice for eCommerce and brick-and-mortar merchants of all sizes.
In addition to providing merchant services, Empresa also leases terminals for POS and is an Authorize.net reseller for eCommerce merchants.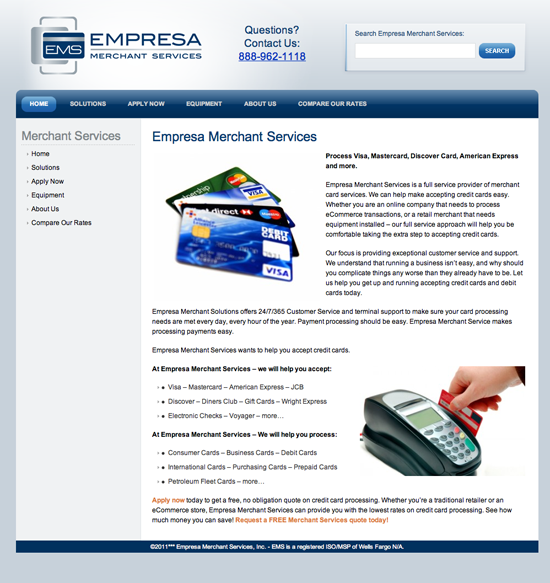 Visit Empresa Merchant Services online at:  http://www.empresapay.com
To receive a quote on merchant services for your business, visit: http://www.empresapay.com/apply-now/
---
Solid Cactus / Web.com
As co-founder of the largest Yahoo! Store design and marketing firm, Solid Cactus, Scott continues to consult and offer his advice and experience in eCommerce store operations with high GMV Solid Cactus clients.  Some of the top 500 eCommerce merchants in the country call upon Scott for advice on branding, eCommerce store operations, warehouse / operations, social media and website design.
---
Private Ventures
After selling the last of his eCommerce stores in 2010, Scott hasn't hung up his Internet hat just yet.  In addition to his merchant consulting role at his former company, Solid Cactus, Scott owns or has an interest in ventures that include: domain name registration, a human edited web directory, and a blogging network that Internet marketers turn to for content publication and link building.
Comments Closed