"139% Interest, Plus Fees." Or, "Plenty Of Reservations About Western Sky Financial."
As I'm watching "All in the Family" on TV Land, a commercial came on that forced me to use the rewind feature of the TiVo.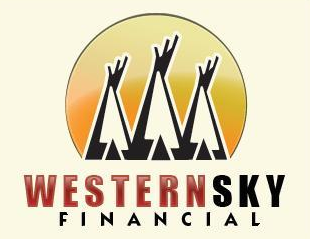 The commercial begins with a Native American named Thomas Moran proclaiming proudly that "Unlike your bank, Western Sky has thousands to lend you." He goes on to warn us that "It's not cheap."
No Thomas, it's not cheap. It's a good old fashioned screwing where the only one smiling after the deed is done is the Cheyenne River Sioux Tribe who owns Western Sky Financial, LLC.
The fine print at the bottom of the television screen read, "The APR for a typical loan of $2,600 is 139.34% with 36 monthly payments."
To make sure I saw that correctly, I hit rewind.
Yep, "The APR for a typical loan of $2,600 is 139.34% with 36 monthly payments."
Granted the type of people who need these so-called "payday loans" have anything but good credit, but does that justify interest rates of 139%?
I visited Western Sky's website and took our certain elements of their terms of use:
"The interest rate on our loans is 135% with an APR of approximately 139%. Borrowers may prepay their loans at any time without penalty. There are no upfront fees. If you are approved and your loan is funded, we will collect a $75 loan origination fee from the proceeds of the loan."
They try to make their incredibly high interest rates more palatable by pointing out that if the person taking out the loan suddenly wins at one of their casinos and decides to pay off their loan early, there's no penalty for doing so. But they will charge you $75 if they agree to loan you the money, like 139% just wasn't enough.
"All loans will be subject solely to the exclusive laws and jurisdiction of the Cheyenne River Sioux Tribe, Cheyenne River Indian Reservation. All borrowers must consent to be bound to the jurisdiction of the Cheyenne River Sioux Tribal Court, and further agree that no other state or federal law or regulation shall apply to this Loan Agreement, its enforcement or interpretation."
Well isn't that nice. So by taking out this loan, you're waiving any protections you're granted by the state or federal government and are agreeing to be bound by the laws of the tribe, which are….? It's a pretty easy way to escape any regulation that prohibits from screwing people with a 139% interest rate.
"The loan agreement contains an agreement to arbitrate all disputes in which borrowers agree to waive their right to a jury trial, to have a court decide any dispute, and to participate in a class action lawsuit, and to certain discovery and other procedures that are available in a lawsuit."
So at some point in time if you decide that you were totally screwed over by the Cheyenne River Sioux Tribe and want to enlist the services of a hot shot lawyer specializing in class action lawsuits aimed at penalizing businesses like these, you're out of luck. You can opt-out of this by letting them know in writing, but once you opt-out, you agree that "any disputes … shall … be governed under the laws of the Cheyenne River Sioux Tribal Nation."
Looking at their rate chart by state, it's sickening to see some of their interest rates:

Yes, it will cost someone over $4,000 to borrow $1,500!
I need to call my uncle in northern Jersey, I don't think the "tribe" he belongs to gets interest rates this good.
Tags: APR, cash advance, cash call, cheyenne river indian reservation, cheyenne river sioux tribal court, cheyenne river sioux tribe, interest rate, Jersey, lawsuit, LLC, loan scam, loans, Native American, No Thomas, pay day advance, pay day loan, payday loan, scam, sky loans, Thomas Moran, tribe, western sky, western sky financial, western sky loan