About Scott Sanfilippo
"We were in the Internet business before we could even take credit cards securely. It took four years before I even thought about quitting my day job."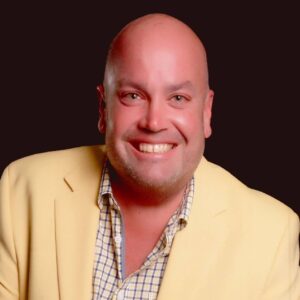 Scott Sanfilippo saw it right away, there just wasn't much he could do about it. "It" of course was the promise of doing actual business on the Internet. It was his first job out of college, with Commonwealth Telephone, which launched epix Internet Services. Scott was in the original tech support group, then he started selling web sites and instantly realized the potential for selling product online to the masses.
Having recently purchased a ferret as a pet, Scott remembers the difficulty he had finding toys, food and treats for the animal, "I thought, 'hey, if I'm having his much trouble finding products for my ferret, maybe others are too'" Scott recalls. Suddenly the TheFerretStore.com was born. It was 1994, before Amazon.com was even invented. We're talking pioneers here. "We had a crude web site that I programmed and maintained, and we sent out a simple catalogue. It was our first attempt at direct mail. I remember what a big deal it was when we got our first ink jet printer! We spread the word about our store in a grass-roots fashion, spending weekends traveling the northeast selling product at ferret shows and introducing the concept of shopping online."
The first four years were rocky. Scott and his business partner Joe Palko plugged away at the Internet and direct marketing, working from a closet in Scott's townhouse. "Back then no one took credit cards over the Internet. But when the attitude changed we finally left the closet for a garage, then we left the garage for an incubator center, then into our own building, which was doubled to 20,000 square feet and 22 employees." It was then Scott stopped working two jobs, and was able to devote himself entirely to the TheFerretStore.com. A side effect of buying and selling for the TheFerretStore.com was that Scott acquired a wealth of knowledge about pets' behavior, illnesses, likes, dislikes, favorite foods, and he shared it. For years he deftly hosted his own weekly radio show and was known affectionately as "The Pet Guy." It was informative and smart marketing.
The Internet is a competitive place, and TheFerretStore.com withstood some big splashes of competition. "Remember Pets.com?" asks Scott. "The sock puppet ads? They bought a million-dollar ad in the Super Bowl one year. They had a multimillion-dollar IPO. We thought that might be it for us. Ultimately they sold us their inventory at pennies on the dollar when they went bankrupt. We came before the dot com boom, we survived the bust, and continued to grow to 50 employees and 39 different pet related websites."
Always the entrepreneur, Scott found the idea for a new business venture in everyday conversation. "I would talk to at least a half-dozen aspiring eCommerce store owners a week who asked me for advice on starting their own business. The story of TheFerretStore.com and its success was written up in magazines, newspapers and mentioned in college courses, so we were pretty well known. We instantly realized the potential an eCommerce consulting company could have so we started one." Solid Cactus was born.
With three employees, one local and two programmers brought over from Russia, Solid Cactus started to gain the admiration and respect of entrepreneurs who wanted to be as successful as TheFerretStore.com. It quickly grew into something Scott never expected, "At the end of '05 there were 32 people. By the end of '06 there were 64. At the end of '07 there were 135 and in '08 we reached our peak with nearly 200. From when we started in '01 till the end of '09, we launched over 4,000 eCommerce stores for clients all over the country."
While Solid Cactus was going through rapid growth, the company needed the full attention of its founders. In May of '07 TheFerretStore.com and several other web properties and inventory were sold to Drs. Foster & Smith, the nation's largest mail-order pet supply company. Scott said the decision was easy. "We realized we had to devote all of our time to growing Solid Cactus."  At the time of the sale, TheFerretStore.com was doing $12M in annual sales, the highest in the company's history.
Solid Cactus went on to be as well known and successful as the original venture, TheFerretStore.com. Solid Cactus was recognized by Inc. Magazine in '07 and '08 as one of the countries fastest-growing privately held companies. "This is wonderful recognition for us," said Scott. "We never set out to be a fast growing company; we merely wanted to be the very best at what we do. Our success has led to more success. One unique feature of the Internet is how fast the word gets around about your company. Be it good or bad, people find out and respond accordingly. The Inc. 500/5000 listings mean that we're doing things right and succeeding along the way."
Perhaps more important to Scott, though, is that while managing this growth Solid Cactus managed a positive work environment. In '06, '07, and '08 the company was selected as one of the "Best Places to Work in Pennsylvania" out of 220,000 businesses in the commonwealth. "Everyone sets out in business to be financially successful," said Scott. "But Joe and I also measure our success by the happiness of our people. These awards prove we really are a success. We try to make work less 'work-like.' No company with serious plans for its future should do any less."
In April 2009, Solid Cactus agreed to be acquired by the leading provider of online marketing services for small businesses, web.com (NASDAQ: WEB), headquartered in Jacksonville, FL. "It was an exciting time," recalls Scott. "We were growing rapidly and we wanted to take the company to the next level, our acquisition by web.com allowed us to do that."  At the time of the sale, Solid Cactus was doing $10M in annual sales, the highest in the company's history, and had 180 employees.
Having served as the company's president and chief operating officer, Scott took on a new role post-acquisition. "I'm an operations guy, but deep down I'm an 'ideas guy' and love to come up with new ways – creative ways – to market products. I passed on the responsibility of the day-to-day operations of the company to (co-founder) Joe (Palko) and now lead a team of strategic account managers and Internet marketing fulfillers for our web.com Agency group which services high value, high touch clients."
eCommerce will always be a part of Scott and he continues to operate several online stores. "Once an eCommerce store owner, always an eCommerce store owner. It's that entrepreneurship, that drive of being your own boss, controlling your own destiny and always striving to be better than your competition that keeps you moving and motivated."
Scott has a bachelor's degree in broadcasting from King's College and currently resides in Delray Beach, FL with his husband Kirby.  Both are passionate about theme parks and spend weekends at Disney World and the other Orlando area parks as well as travel the country seeking out the best roller coasters.
Scott has served on the board of directors for the following organizations:
Great Valley Technology Alliance (2008 – 2009)
Luzerne County SPCA (2008 – 2009)
Scott's achievements:
Scott has been featured in the following national publications:
Entrepreneur
Internet Retailer
Inc. Magazine
Wall Street Journal
USA Today